In Stock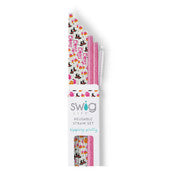 Sip, Sip, Hooray! 🥤 Beware of this spooky cute pattern of ghosts, witch hats and candy corn.
Eliminate the need of those single-use straws and sip with our reusable straw sets. Go eco-friendly and add printed straw sets to your Swig order for the ultimate sustainable routine!
4 printed straws, 2 glitter straws, and 1 cleaning brush
Made of BPA-free plastic

Compatible with:

12oz Skinny Can Coolers
22oz Travel Mugs
20oz, 22oz and 32oz Tumblers
Please Note:   Payment is due at the time of order.  If you chose to opt into a payment plan you can choose Klarna or TCD Payment Plan.  With the TCD payment plan a minimum of 20% down is required and needs to be paid in full prior to shipping.  We can provide up to 6 months to pay from the date of purchase, however all Spring merchandise must be paid by 2/01/2023, Halloween merchandise must be paid by 9/15/2023 and all Christmas must be paid by 11/15/2023.  Preorders cannot be cancelled or returned.  Once you receive your product, if it experienced any damage during the shipping process, please contact us within 10 days of delivery and we will work with you to resolve the issue.   Please see our refund policy for all Terms and Conditions.