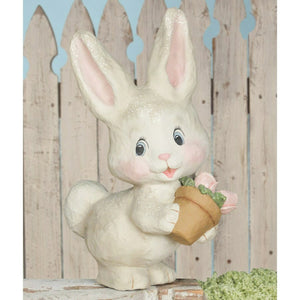 This retro-inspired, paper mache bunny will add a special touch of Easter charm to your décor.
Hop into Easter with the cutest decoration around! This little white bunny has bright big blue eyes with blushing pink cheeks! In her hand she holds a clay colored pot with green leaves and light pink tulips! Made by Bethany Lowe. 
Materials: Paper mache.
Dimensions: 16.5" X 11.5" X 8". 
Please Note:  Payment is due at the time of order.  If you chose to opt into a payment plan you can choose Klarna or TCD Payment Plan.  With the TCD payment plan a minimum of 20% down is required and needs to be paid in full prior to shipping or within 6 months from date of purchase.  Preorders cannot be cancelled or returned.  Once you receive your product, if it experienced any damage during the shipping process, please contact us within 10 days of delivery and we will work with you to resolve the issue.