In Stock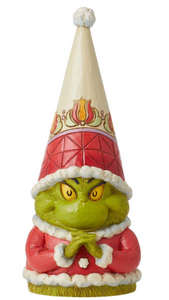 Grinch Gnome Clenched Hands - 6.89"
Description
Known for his gnomes, Jim Shore presents his newest garden guardian crafted with Dr. Seuss flair. Wearing a flower adorned Santa hat, the Grinch folds his hands mischievously as he plots to steal all the presents in the room. Beware holiday hi-jinks!
Figurine
6.89in H
Jim Shore Grinch Collection
Beautifully hand-painted and crafted with intricate styling and attention to detail
Jim Shore's style evokes a sense of nostalgia with traditional themes, quilt patterns and design motifs inspired by American and European folk art
Proudly designed by award winning artist, Jim Shore
Packaged in individual box with photo on front
Please Note:   Payment is due at the time of order.  If you chose to opt into a payment plan you can choose Klarna or TCD Payment Plan.  With the TCD payment plan a minimum of 20% down is required and needs to be paid in full prior to shipping.  We can provide up to 6 months to pay from the date of purchase, however all Spring merchandise must be paid by 2/01/2023, Halloween merchandise must be paid by 9/15/2022 and all Christmas must be paid by 11/15/2023.  Preorders cannot be cancelled or returned.  Once you receive your product, if it experienced any damage during the shipping process, please contact us within 10 days of delivery and we will work with you to resolve the issue.   Please see our refund policy for all Terms and Conditions.