In Stock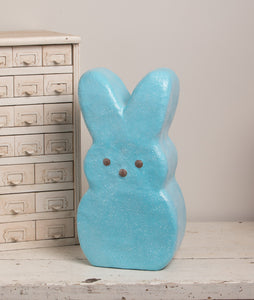 In an exciting collaboration with Peeps®, Bethany Lowe Designs has crafted a large, paper mache version of the iconic marshmallow treat. With specially prepared paint and a coat of sugar glitter, this adorable bunny looks like the real deal. Just make sure your guests don't try to take a bite!
Dimensions: 18.5" X 9" X 5"
Please Note:  Payment is due at the time of order.  If you chose to opt into a payment plan you can choose Klarna or TCD Payment Plan.  With the TCD payment plan a minimum of 20% down is required and needs to be paid in full prior to shipping or within 6 months from date of purchase.  Preorders cannot be cancelled or returned.  Once you receive your product, if it experienced any damage during the shipping process, please contact us within 10 days of delivery and we will work with you to resolve the issue.