In Stock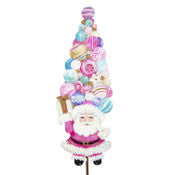 Dimension 1: 5" x .5" x 14.5"
To extend the life of your purchase apply a clear matte protective coating at the start of each season, before exposing the product to outdoor elements. We recommend using Krylon UV-Resistant Acrylic Coating, which can be found at your local craft store or home improvement store.

Once you receive your product, if it experienced any damage during the shipping process, please contact us within 10 days of delivery and we will work with you to resolve the issue.