In Stock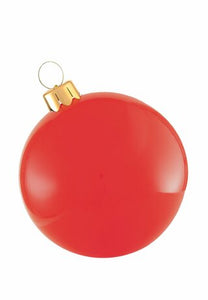 Holiball Inflatable Ornament - Classic Red - Two sizes 18" or 30"
INFLATABLE, DEFLATABLE & REUSABLE
Set up is simple. Just inflate, plug, and pop on the top.  Superior durability, UV resistant and specially engineered to withstand harsh climates. Shrink to store. You can eliminate the need for oversized storage units. The Holiball® shrinks to the size of a softball when deflated.
Every Holiball® comes with a hardware kit for anchoring. You can use this kit to anchor to the ground, walls or even add a weight to float them in your pool. You can attach fishing line to a dive stick and connect to the anchoring kit to ensure that the Holiball® stays upright and in position in your pool.
The Holiball® is made of a UV resistant engineered polymer. This is no rubber in the construction of the ornament so it will not dry rot. The UV coating will also protect it from fading in the sun.
 The material has been tested to withstand temperatures from -20 degrees to 120 degrees.
We guarantee the Holiball® will stay inflated for a minimum of 90 days. You can keep it inflated longer, but there is a chance you will need to add more air past 90 days.
Please Note:    Payment is due at the time of order.  If you chose to opt into a payment plan you can choose Klarna or TCD Payment Plan.  With the TCD payment plan a minimum of 20% down is required and needs to be paid in full prior to shipping.  We can provide up to 6 months to pay from the date of purchase, however all Spring merchandise must be paid by 2/01/2022, Halloween merchandise must be paid by 9/15/2022 and all Christmas must be paid by 11/15/2022.  Preorders cannot be cancelled or returned.  Once you receive your product, if it experienced any damage during the shipping process, please contact us within 10 days of delivery and we will work with you to resolve the issue.   Please see our refund policy for all Terms and Conditions.