In Stock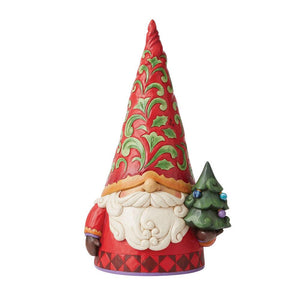 There's no place like gnome for Christmas! Celebrate the season with this incredibly crafted holiday gnome by Jim Shore. Patterned in delicate engravings and holly this eighteen inch gnome holds a little tree with ornaments.

Eye-catching Jim Shore Heartwood Creek Christmas Gnome Statue is a Great Value
Beautifully hand-painted and crafted from high-quality stone resin suitable for indoor and outdoor display
Jim Shore's unmistakable style evokes a sense of nostalgia with traditional themes, quilt patterns and design motifs inspired by American and European
Packaged in individual box with photo on front
18 in H
Please Note:  Payment is due at the time of order.  If you chose to opt into a payment plan you can choose Klarna or TCD Payment Plan.  With the TCD payment plan a minimum of 20% down is required and needs to be paid in full prior to shipping.  We can provide up to 6 months to pay from the date of purchase, however all Spring merchandise must be paid by 2/01/2022, Halloween merchandise must be paid by 9/15/2022 and all Christmas must be paid by 11/15/2022.  Preorders cannot be cancelled or returned.  Once you receive your product, if it experienced any damage during the shipping process, please contact us within 10 days of delivery and we will work with you to resolve the issue.   Please see our refund policy for all Terms and Conditions.