Preorder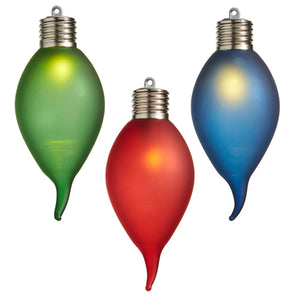 Lighted Kismet Bulb Glass Ornament - Set of 3 - 5.25"
3 Asst
Made of Glass
Measures 2"L X 5.25"W; 2"W X 5.25"H
Includes 3 Lr44 Batteries
Please Note:  This is a PREORDER item, and the item will ship once we receive it from the manufacturer.  The current estimated shipping date from the manufacturer to Travis Collis Designs is estimated for Sept 2023 (date subject to change).  Placing a preorder allows us to reserve your item so you do not miss out on limited quantity items.  Payment is due at the time of order.  If you chose to opt into a payment plan you can choose Klarna or TCD Payment Plan.  With the TCD payment plan a minimum of 20% down is required and needs to be paid in full prior to shipping.  We can provide up to 6 months to pay from the date of purchase, however all Spring merchandise must be paid by 2/01/2023, Halloween merchandise must be paid by 9/15/2022 and all Christmas must be paid by 11/15/2023.  Preorders cannot be cancelled or returned.  Once you receive your product, if it experienced any damage during the shipping process, please contact us within 10 days of delivery and we will work with you to resolve the issue.   Please see our refund policy for all Terms and Conditions.